Get a FREE Mattress…

 With the purchase of selected bedroom furniture sets in stock. Quantities are limited.  Floor samples only.
SALE on all our:

  

Leather, Dining, Bedroom & more, up to 50% Off!
This Memorial Day we are offering additional discounts for those who have served our country.  Don't miss out on the once a year opportunity.   Welcome to the most comprehensive family owned store in the Northwest.  We focus on USA Made Furniture and Leather at the most competitive pricing.   American made as well as Amish Built Bedroom, Office, Dining, Entertainment, Occasional, Curios and more.  Don't worry so much about size, in most cases we can have Amish Furniture Built to the exact size you want.

American Builders provide 99% of our furniture.  Offering Top/Full Grain Leather,  beautiful solid hardwoods such as Hickory, Cherry, Maple, Quarter Sawn White Oak, Rustic woods and more.


Same people, new name. More selection, More Leather and Amish Furniture than ever before. Our Furniture Store been known as "Oak Furniture Warehouse" for 22 years. We are now doing business as  "USA Furniture – Leather Amish Connection".  Our name now reflects what we sell.  More choices, more styles & wood options, more colors and finishes, more customization's  available than ever before.

Store locations may have different "in stock" items on clearance. Builder discounts will be at both locations.
 Select American Top grain leather sale items up to 40% off our everyday discount prices.

    Supporting our American workers and American products.  We love the Amish Connection that we have developed over the years with over 100 builders in Ohio, Indiana and Pennsylvania.  You choose and we do all the work to get exactly what you want.  Our professional staff will help with your design and color scheme.  Our selection of Top/Full Grain USA Leather, wood and finish selections meet every need.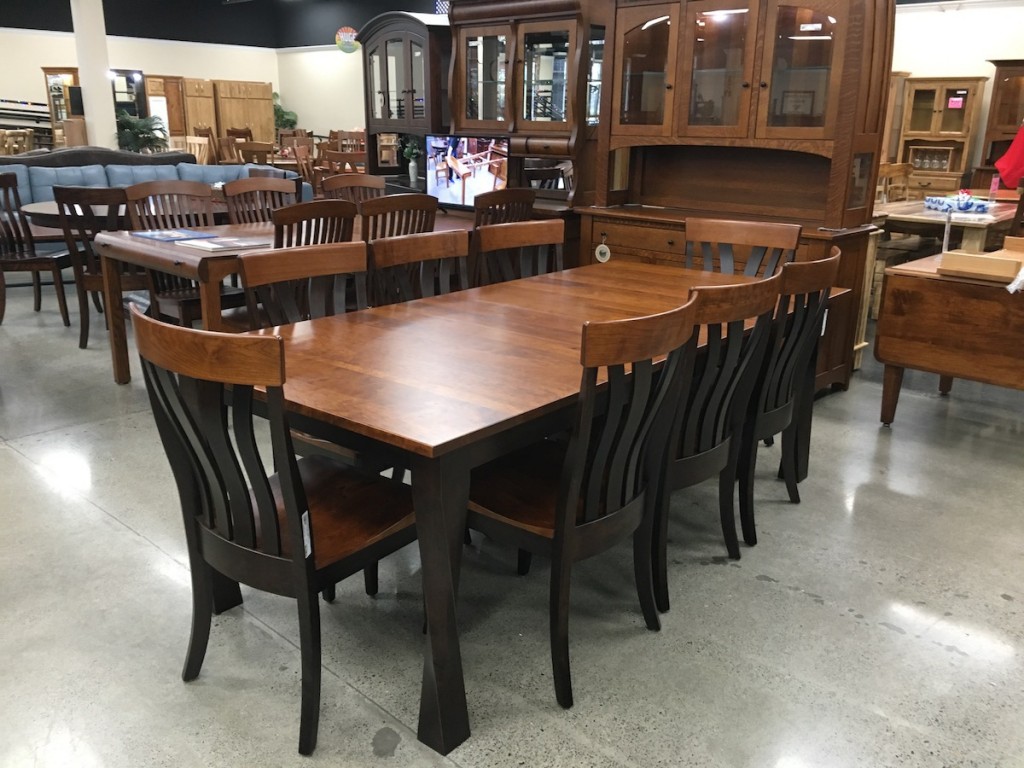 Our Leather and Amish built furniture selection absolutely amazing.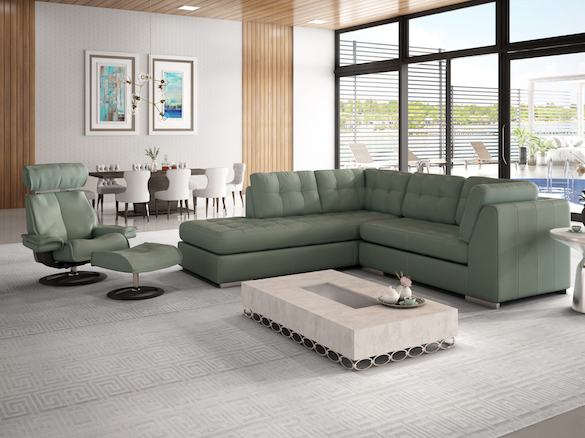 Amish Built .. Choose your wood and finish colors.  Two & three finish tone options.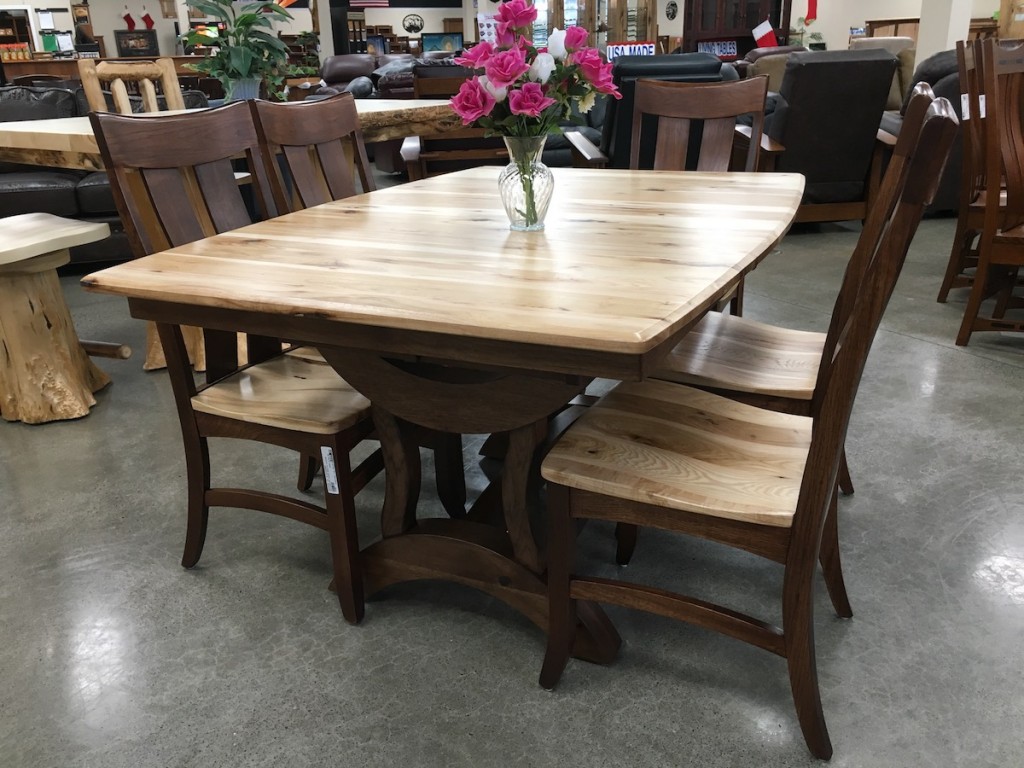 Top grain leather is a specialty of ours. We sell ONLY American made Full and Top grain leathers. We have over 200 colors to choose from. Including"Tooled" leathers to add some pop to any piece.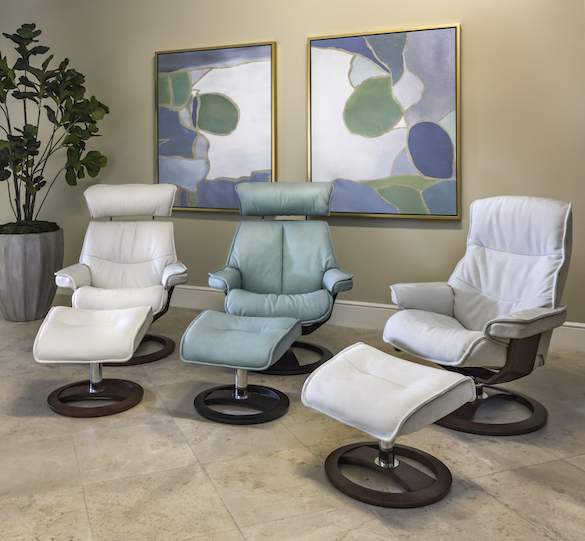 These Ergo-Chairs are very comfortable and stylish, you have leather and fabric options.
Live Edge tables are also available on Desks, Coffee and End tables, China Cabinets, Bedroom furniture and so much more.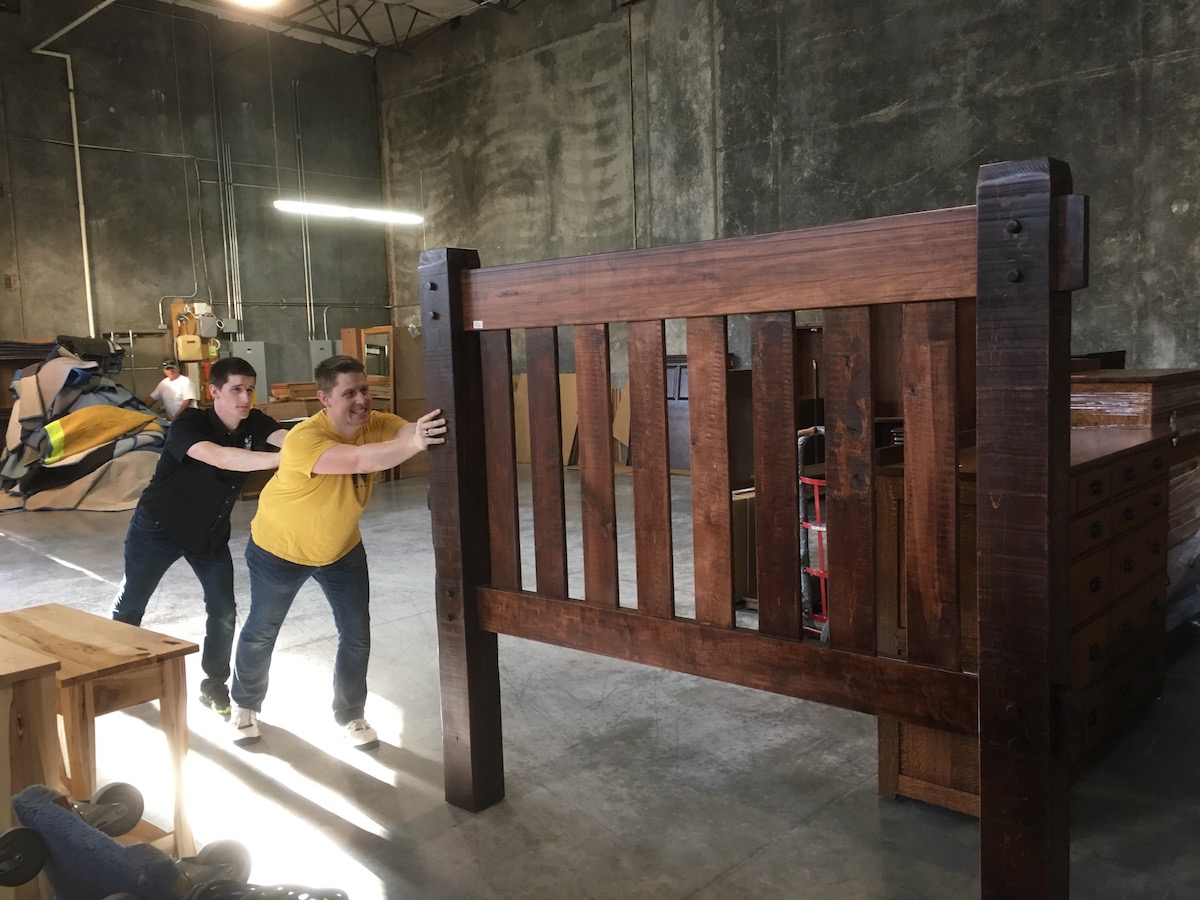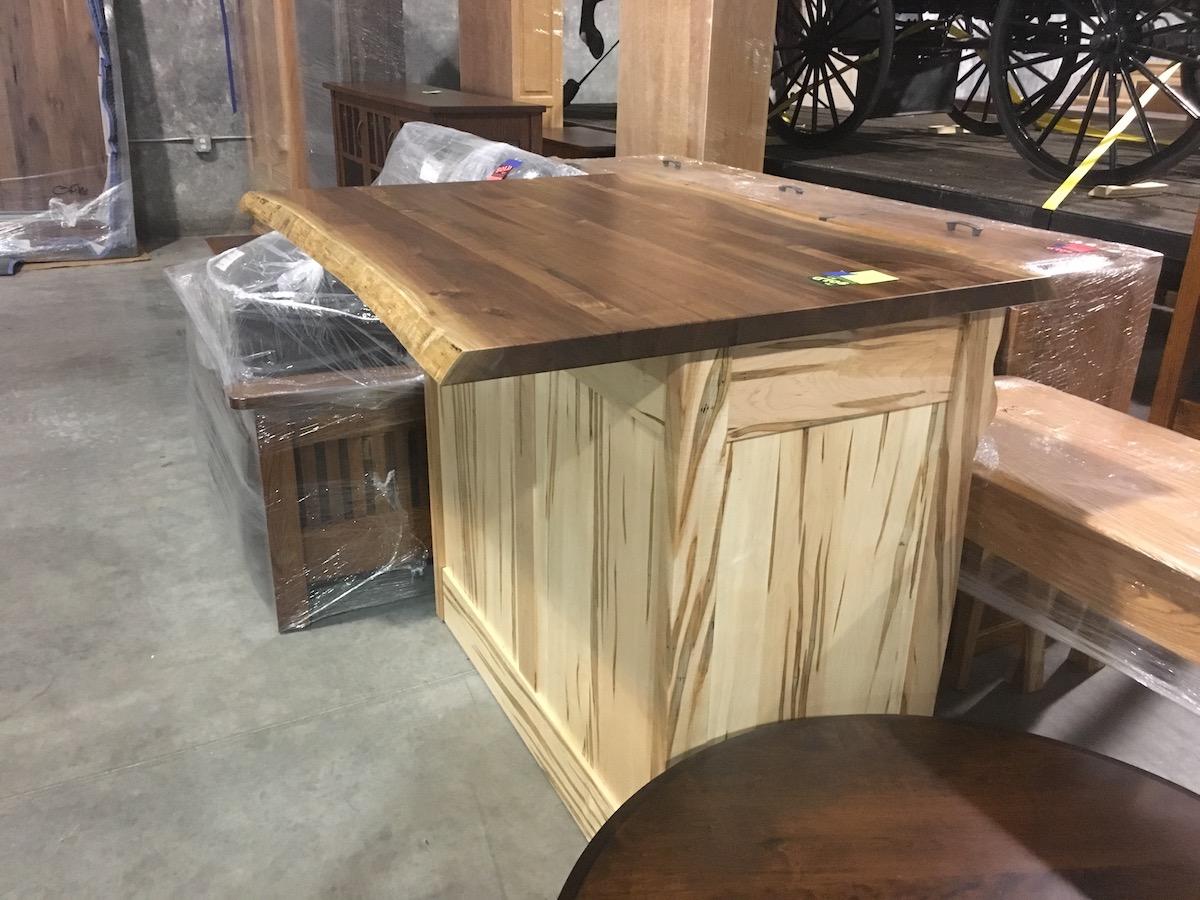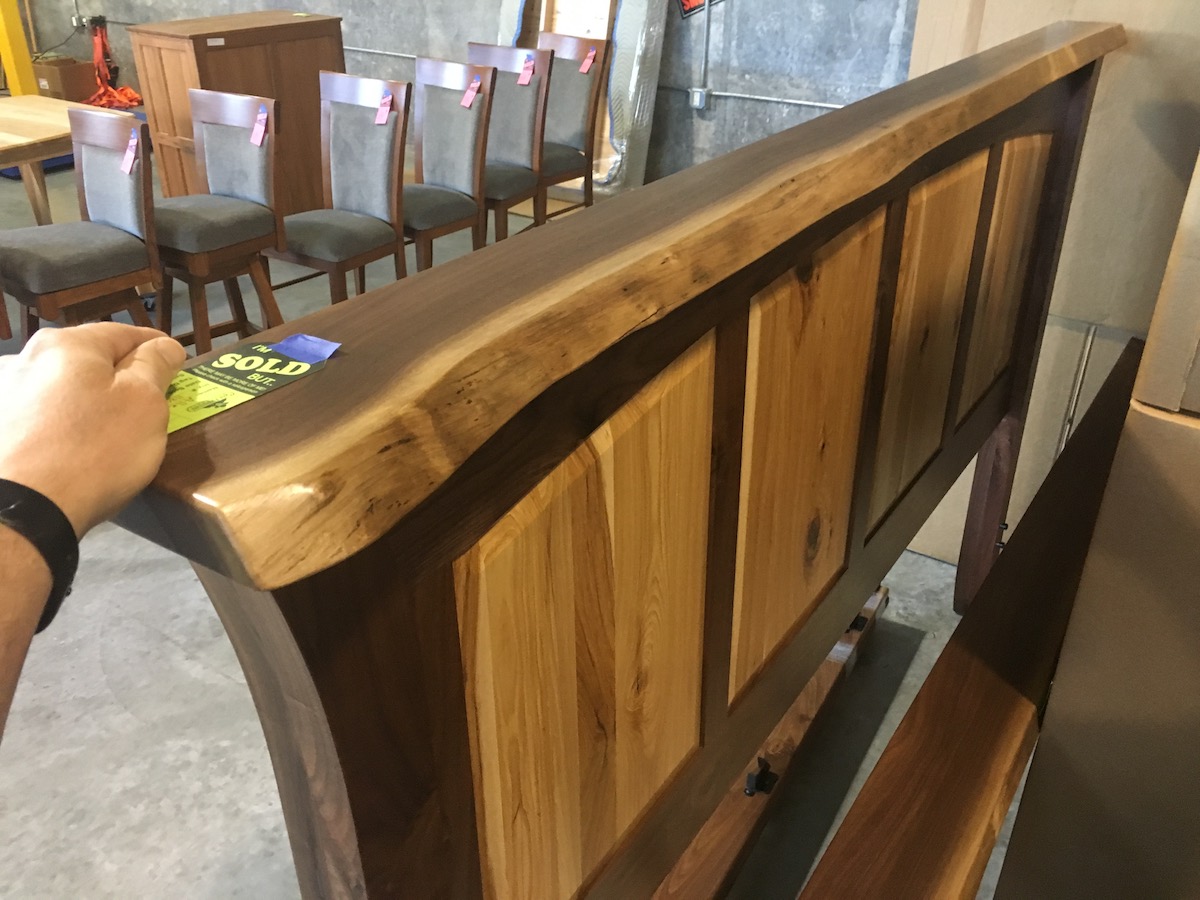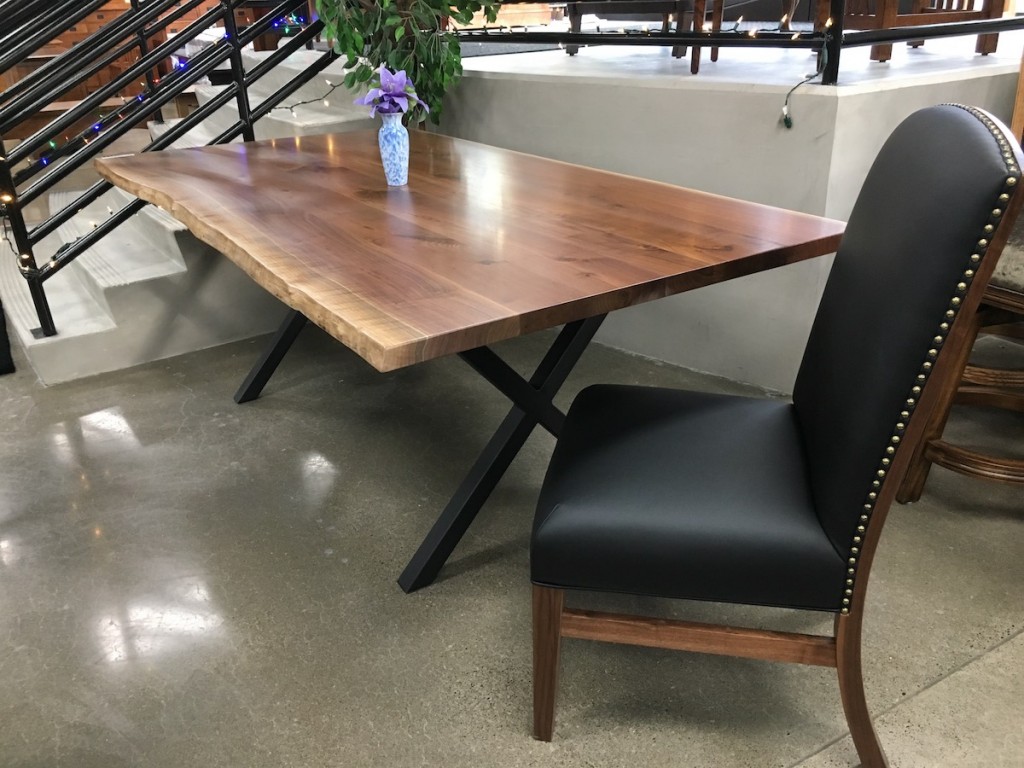 Live edge (Walnut in the case) and Leather, what a great combination.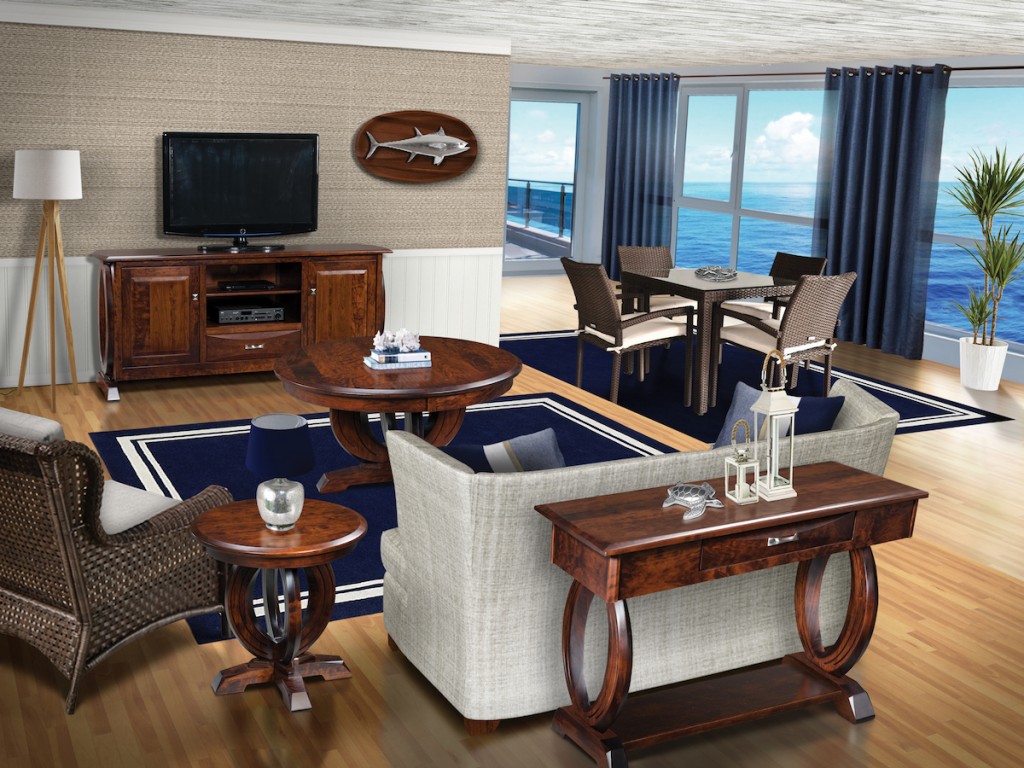 NEW ** NEW ** Live Walnut Wild Edge options..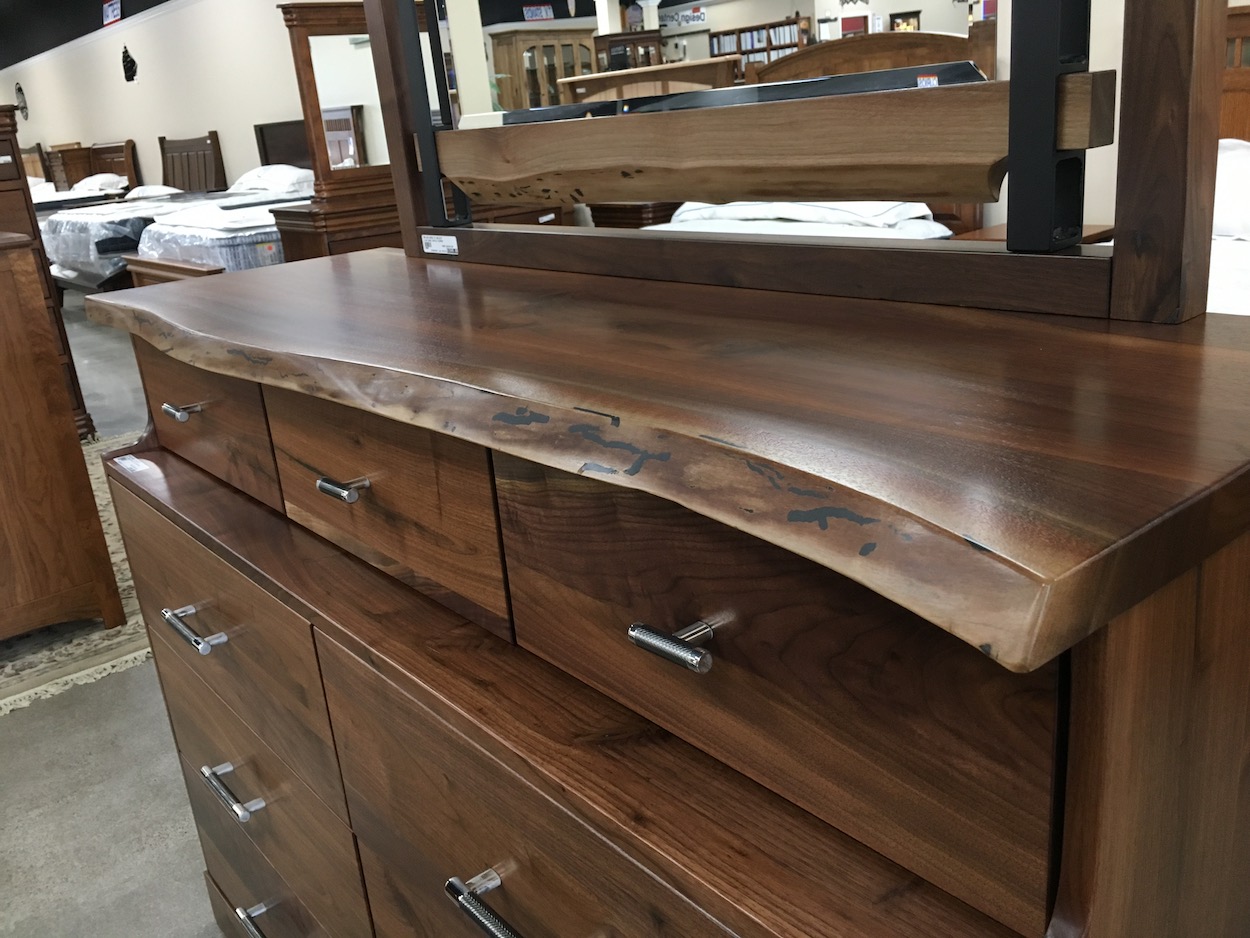 Amish Morris Chair in Leather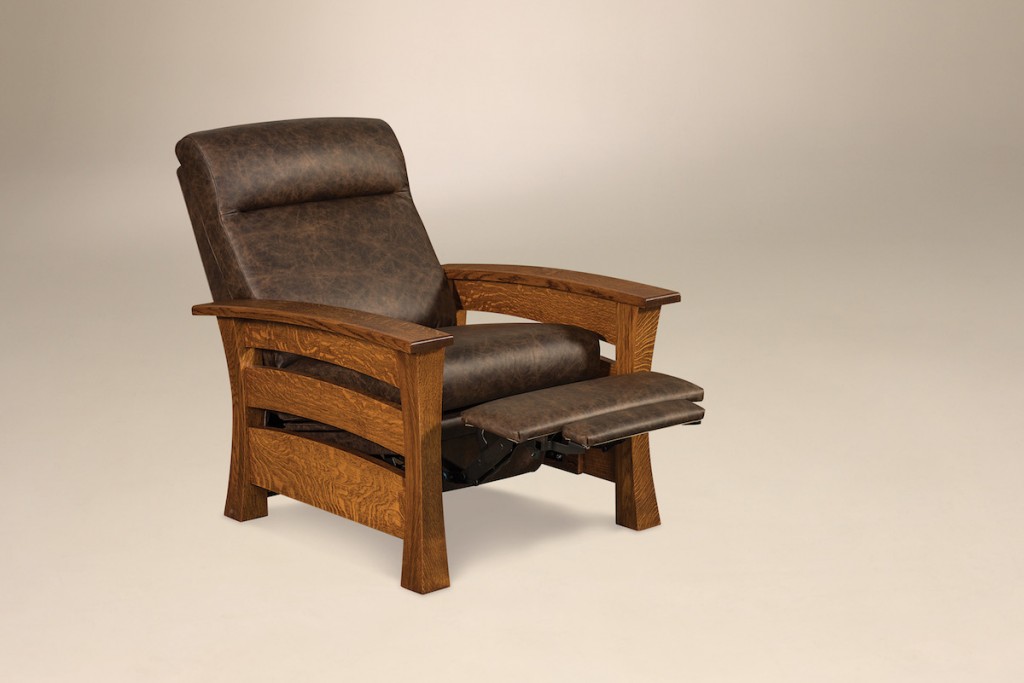 Create the size you need out of this beautiful wood on one of your choice.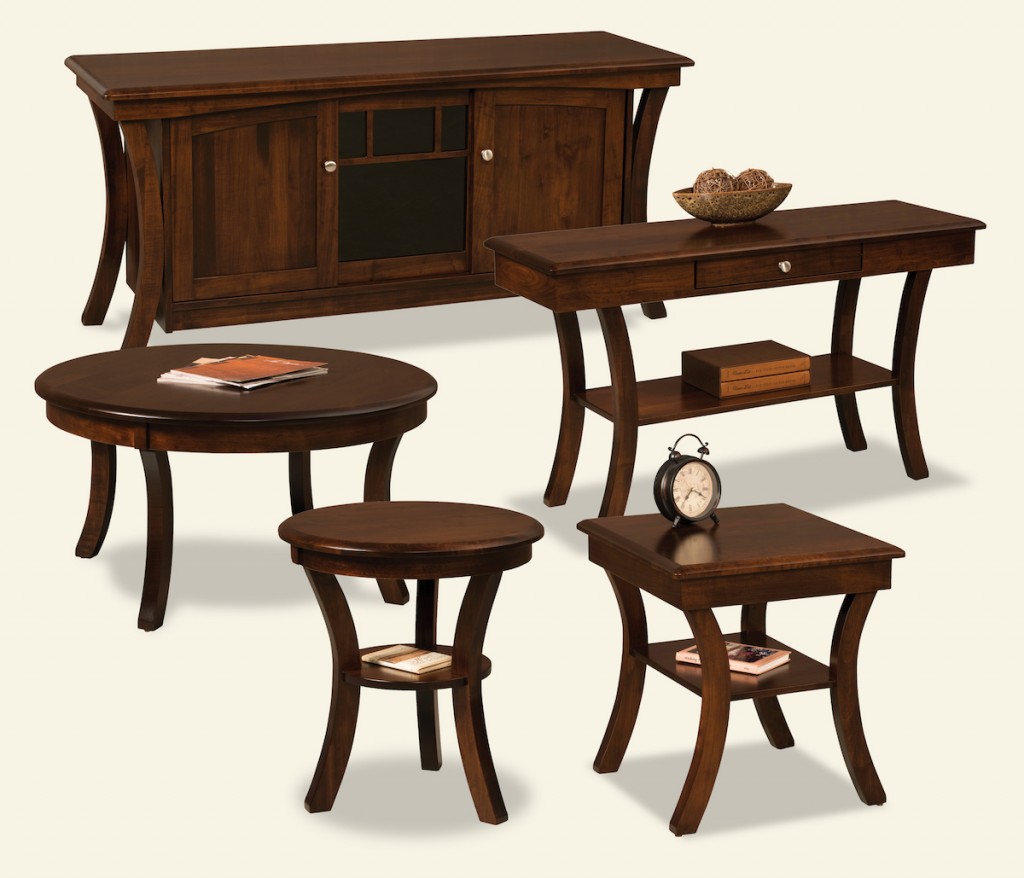 Beautiful living room sets that matches any decor and style.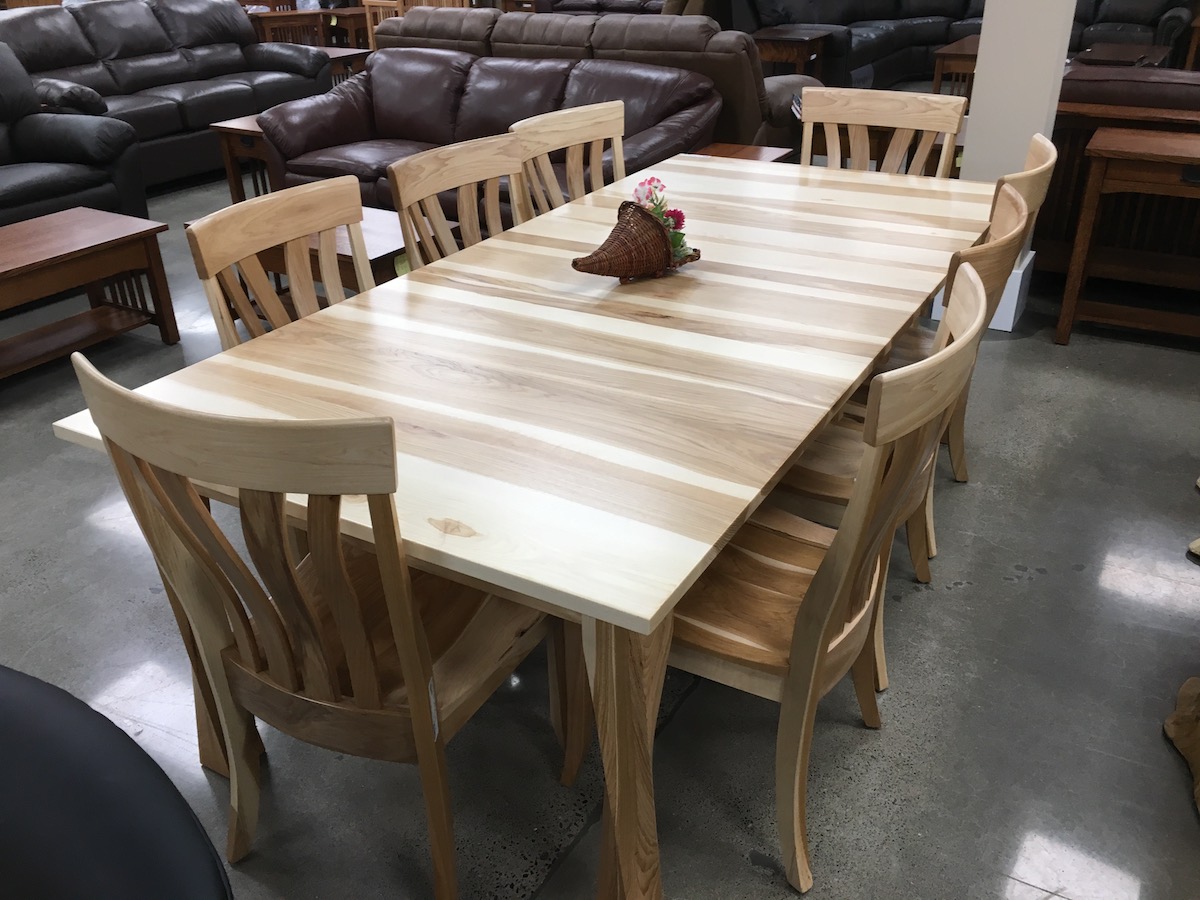 We have decided to bring an entire new look in every department.  Save between 20% to 50% on selected items.  New items in our LEATHER, Bedroom, Dining, Office & Entertainment departments.  The furniture below is solid, yet elegantly styled.  Available in solid cherry, maple, Quarter-Sawn, hickory, oak, elm & more.  We are able to resize dressers, night stands, mirrors, entertainment centers, Curios, hutches and more.
 Rustic Hickory is always a hit in the fashion world of decor.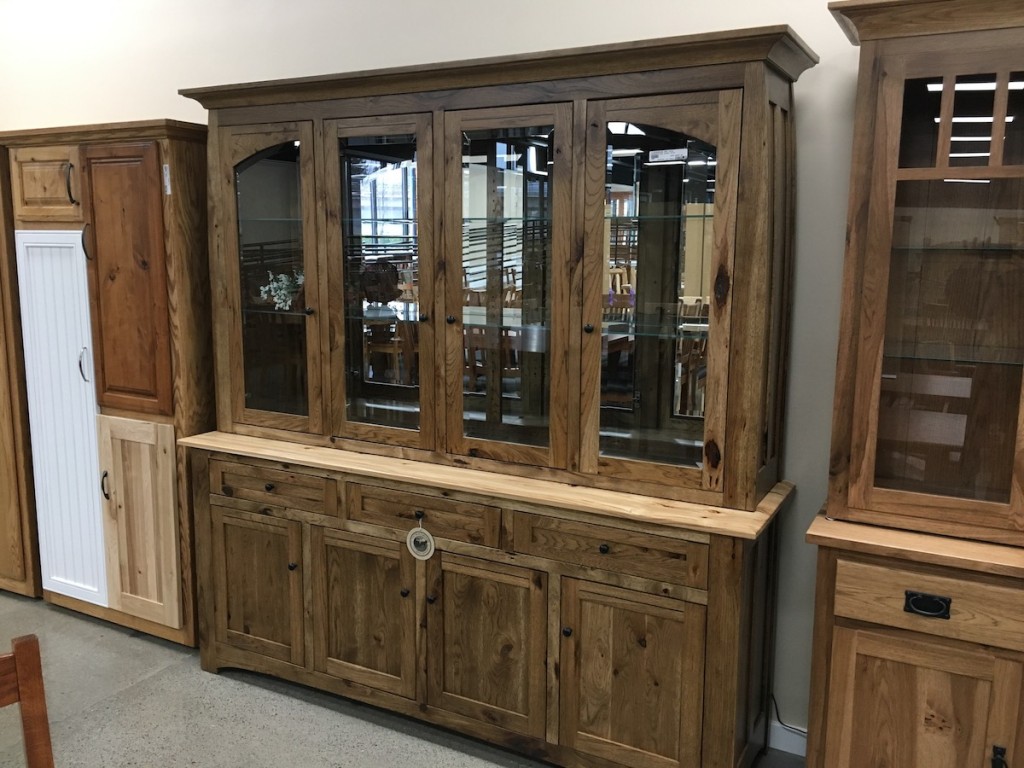 We have the best hickory selection in the Northwest.  Hutches, curios, dining tables & chairs, bedroom furniture, TV stands, nearly everything available in Hickory 35 finishes, both rustic, and clear.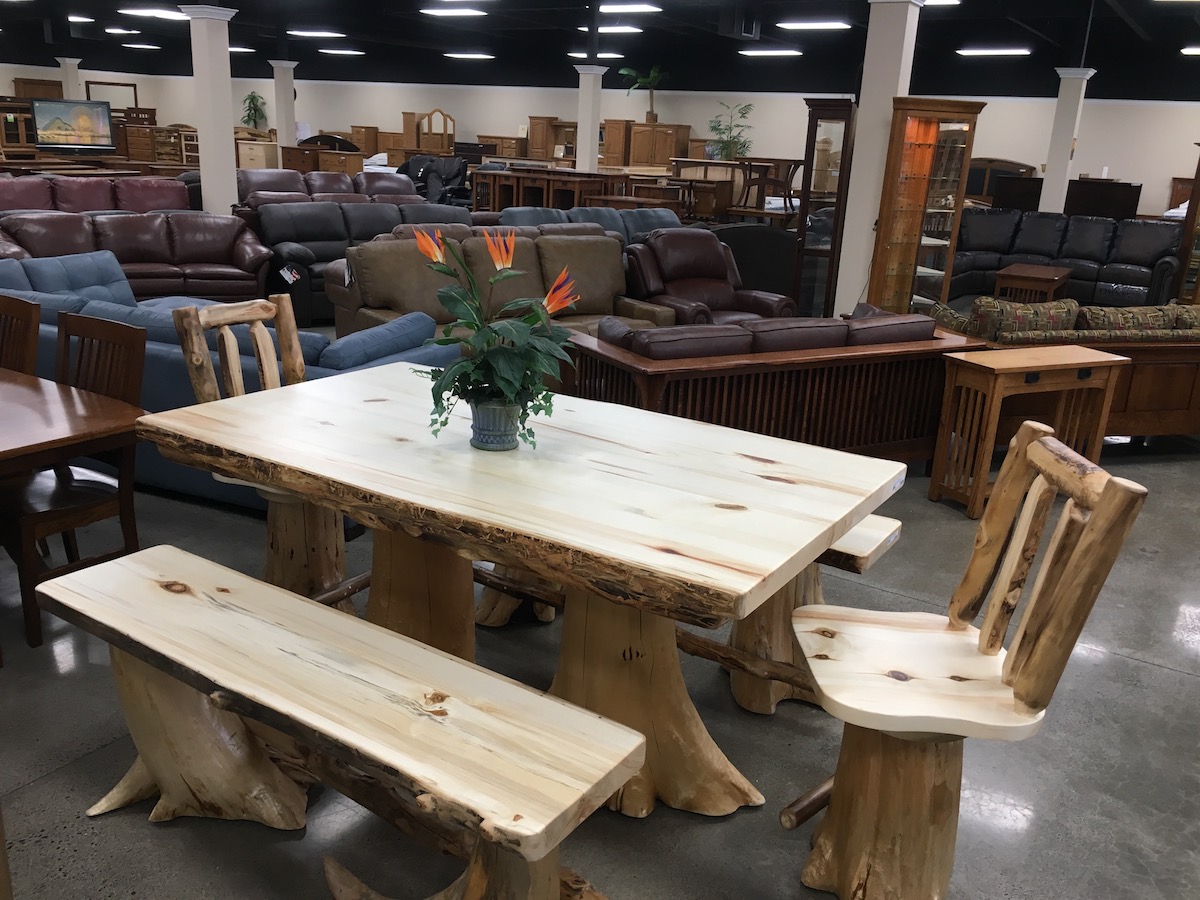 Aspen furniture is the best for log furniture, you don't find this at any other store.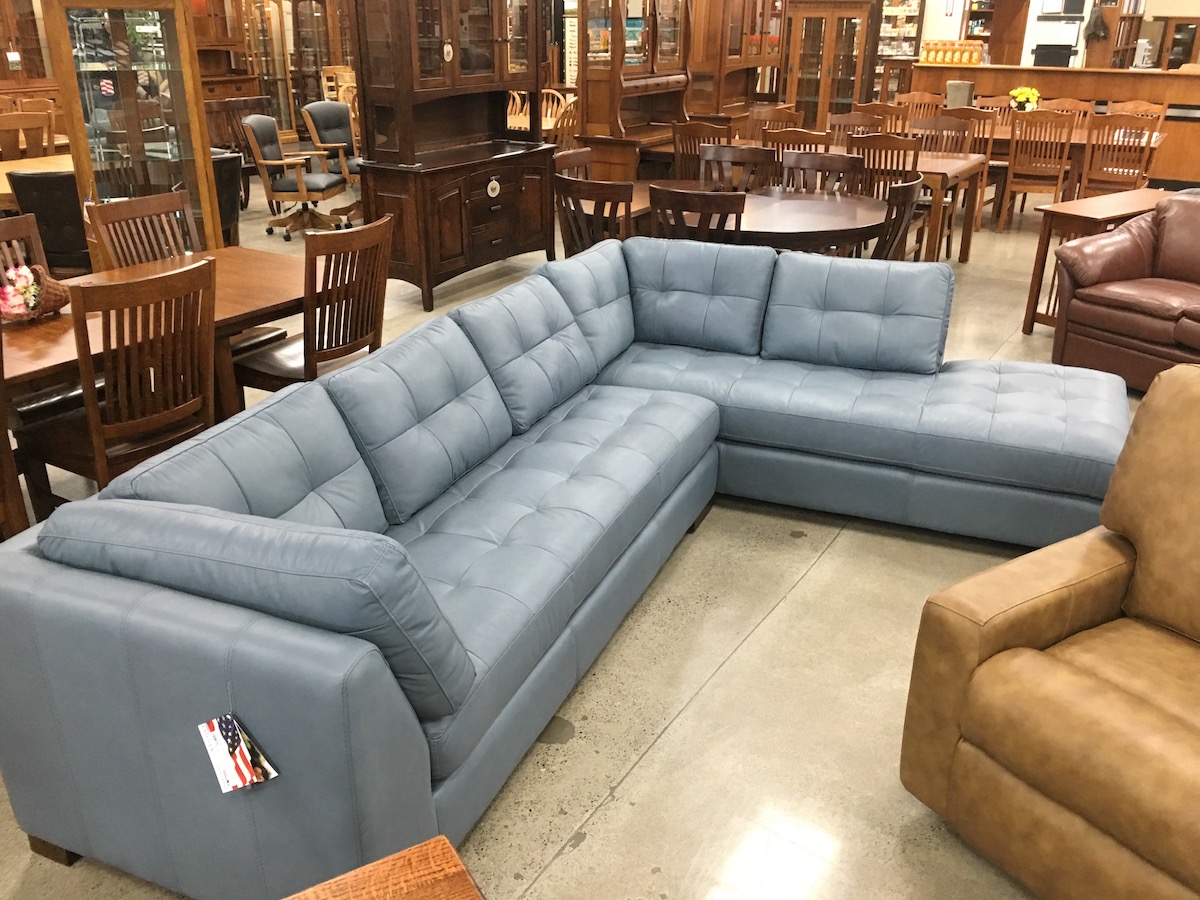 New colors of 100% top/full grain American made leather furniture and in over 150 leather choices in different 5 grades.  In addition all frames are available in over 250 fabric choices.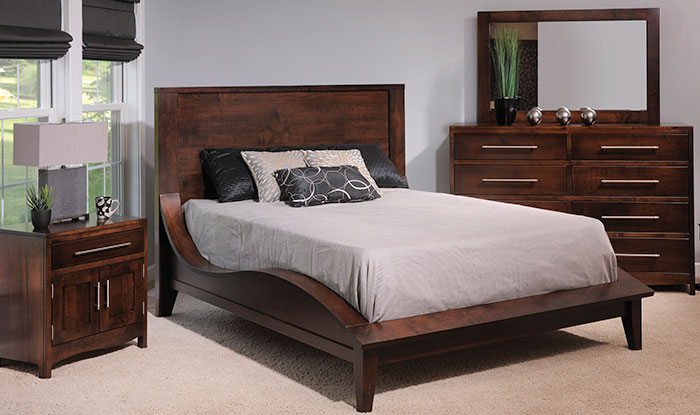 WE have personally visited and toured over 75 Amish & American Builders & Finish Shops.  Many styles of furniture can mix woods,  finishes, that will fit your space perfectly.  Before you buy any furniture, come and see us, At USA Furniture – Leather.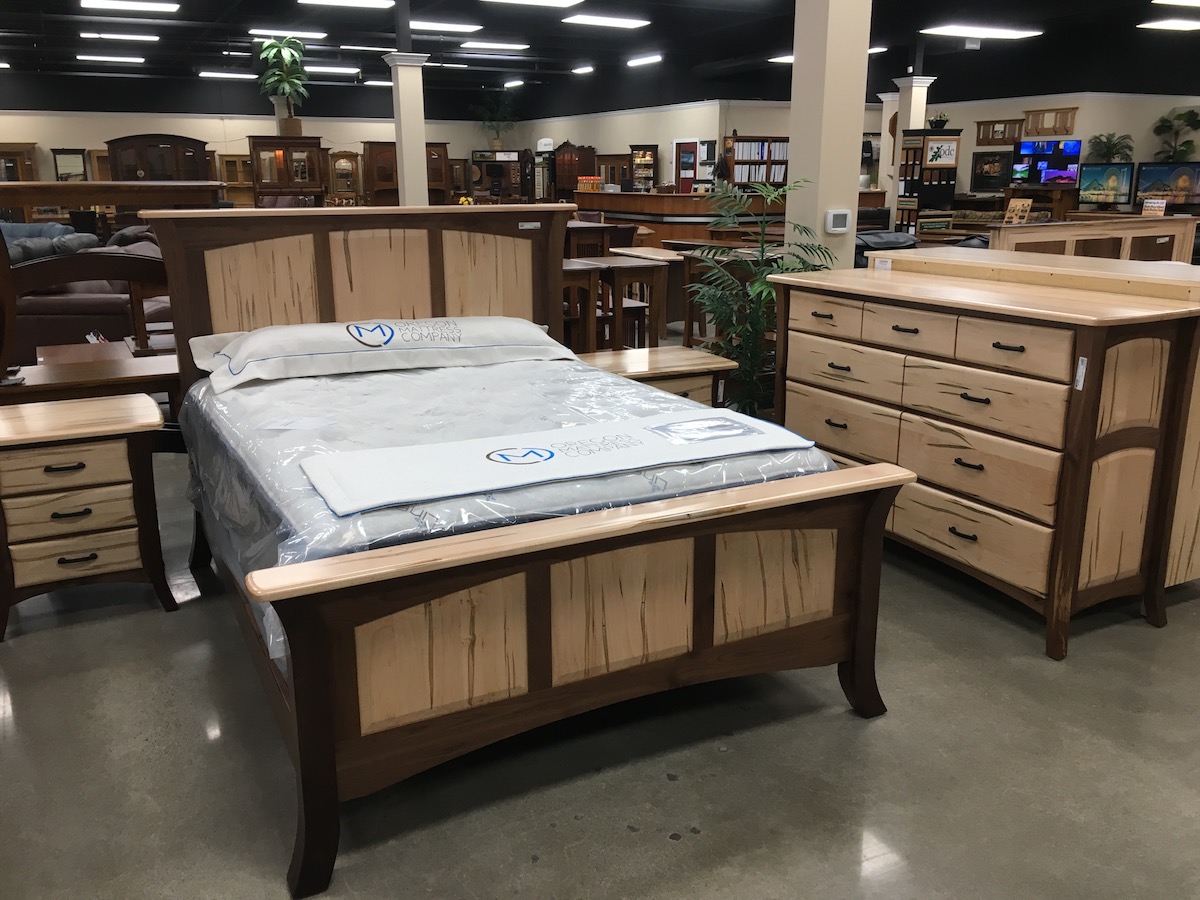 Rustic Maple accented with solid Walnut will contribute to any bedroom and tantalize your style with eye candy found nowhere else but USA Furniture – Leather.  Your Amish connection to value and creativity.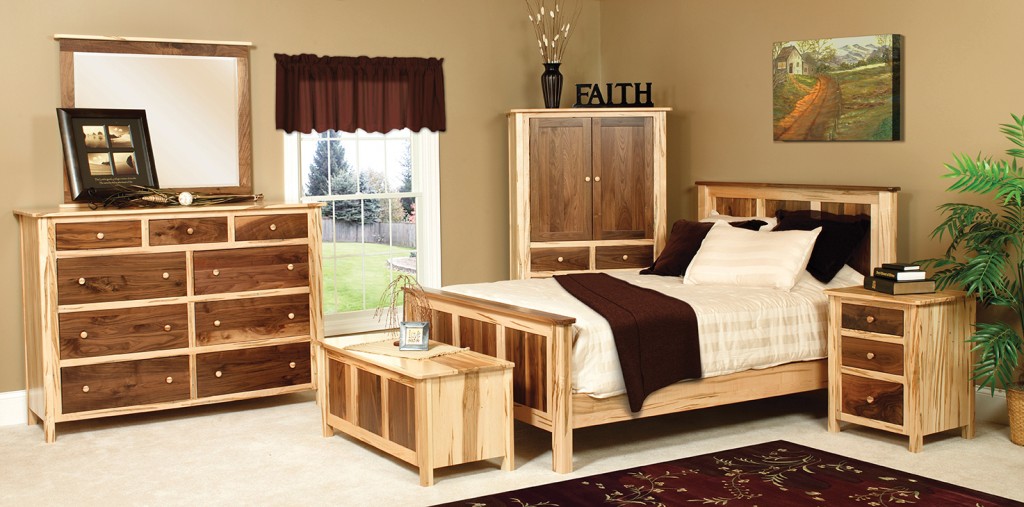 These unique wood combinations can be accomplished in any wood and finish.  Here we see Rustic Maple and Walnut combination.  Amish Quality.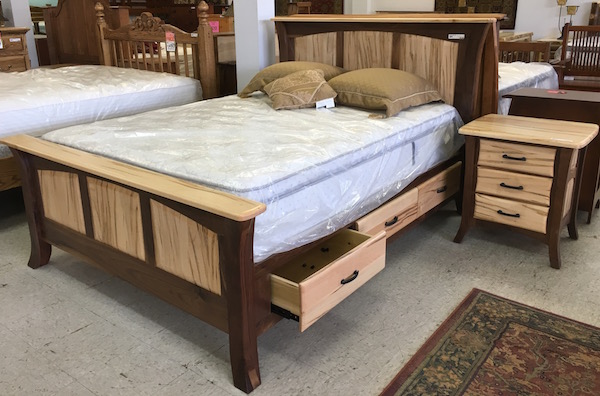 Just in  ….  Jewelry Chests American / Amish Made.  This furniture is solid.  There is NO MDF or other fake wood here!  This furniture will absolutely take your breath away … Stunning and Beautiful.
New TV ad      –     BBB Rating      –      Amish  on Sale
American Built furniture can cost less than the imports from China and other countries. You only have to buy American build furniture once.  You get your choice of many woods,  finishes (30+) and hardware options.  Family owned since 1995!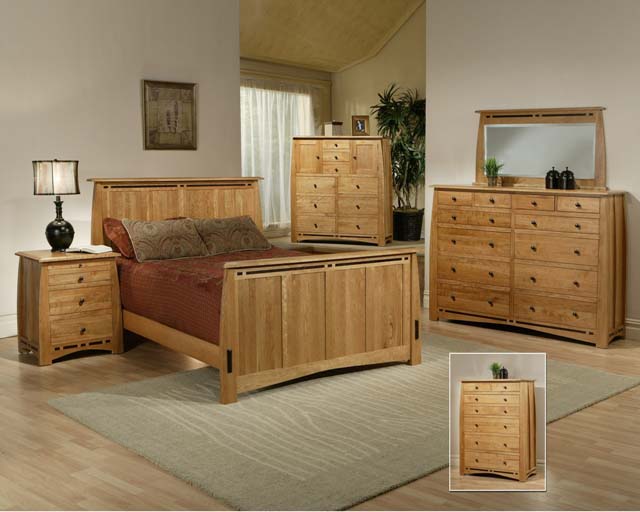 100% Full & Top grain Leather.  Best prices on American Made Leather Furniture

.  Over 27 Leather Pieces on display, over 50 styles to choose from, over 200 leathers.
We have selected a group of (90%) American and (10%) import factories that have the same commitment to style, quality, long lasting, well built furniture.  We only have room to show about 20% of what is available to us.  Great furniture has features and benefits that must be felt, handled and seen.  The smooth drawer glide opening and closing can only be handled & felt, the correct stain finish can only be seen correctly in person. 
The quality of the finish is something that can be very deceptive in a picture, it needs to be felt like you would at home, seen at different angles like it would be at your home.   We can change the size, wood or finish on most of our products, and do it at the best pricing in the Northwest.  Furniture is all a matter of your taste, we will help you find what you are looking for, and you'll be glad you came in and checked us out.  Please allow us to earn your business.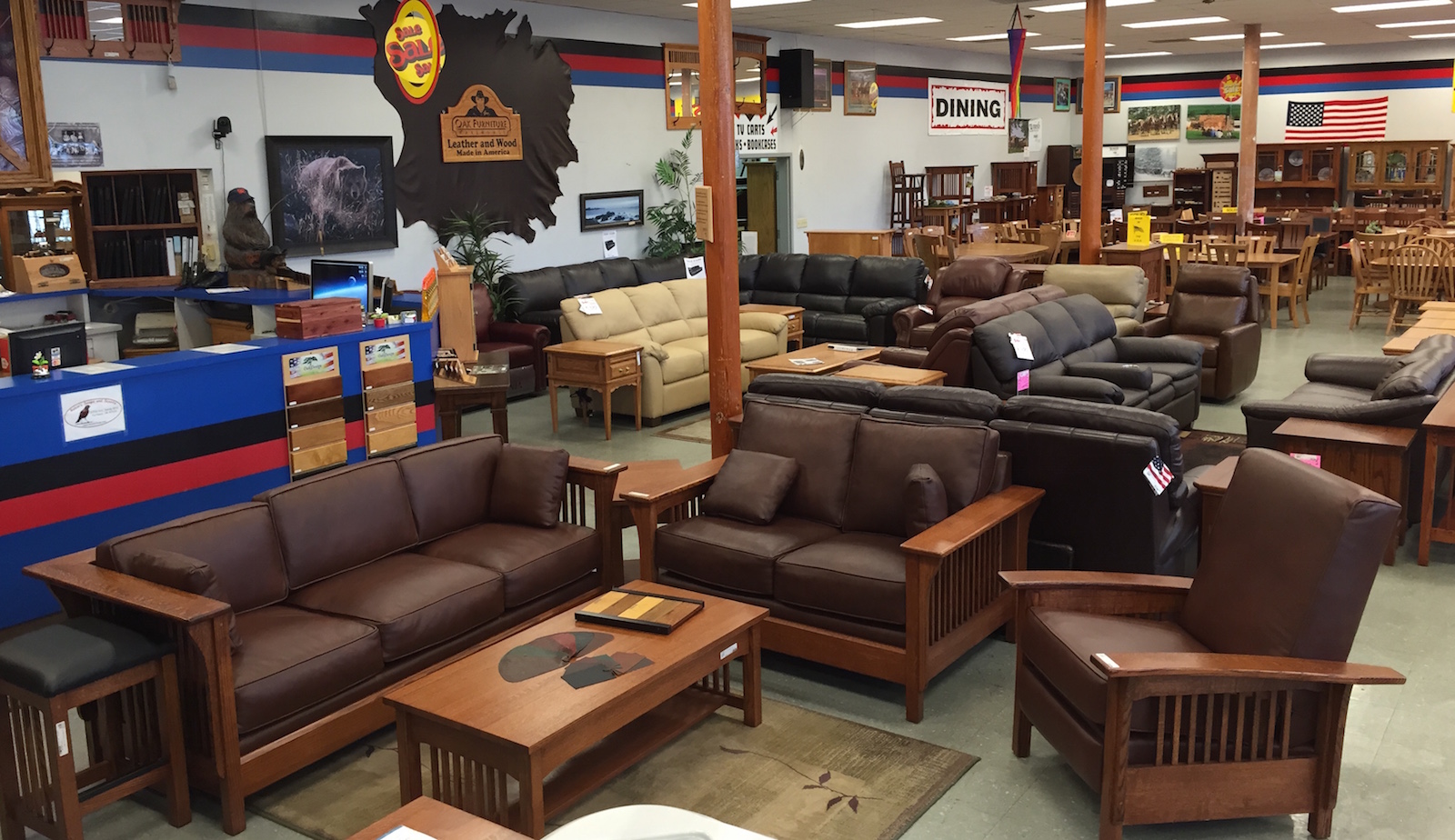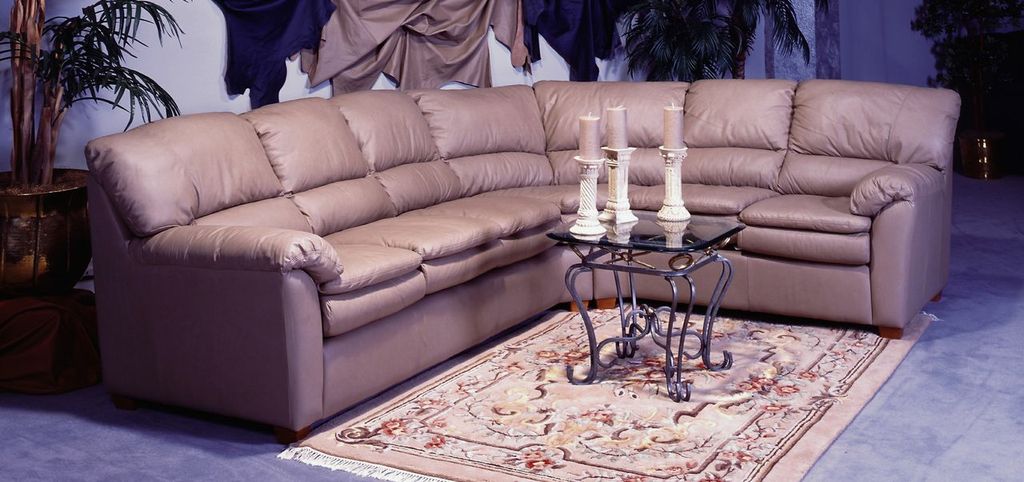 You won't find  selection and service on American made leather furniture like you do at USA Furniture – Leather!  With over 200 colors of Top / Full grain Leather you can create furniture that is stunning yet elegant.  What is really important is your specific tastes, not ours.   We have over 250 fabric selections and 6 grades of leather.  We offer Power Motion on nearly all of our furniture.  This feature has taken over the European market due in part to the longevity and dependability of power vs manual motion controls (Battery options are available with a 300 use capacity).  Dreams can come true with the furniture you love.
Our Amish made Furniture is second to none in quality and pricing. Most items can be altered as an option if you are looking for a specific dimension. We offer SOLID woods such as Oak, hickory, rustic hickory, maple, elm, rustic cherry, sap cherry, wormy Maple, cherry, alder, rustic alder and more. There are over 30 stain finishes that are available. Our Our Amish made furniture comes with a factory Lifetime Warranty.
Bookcases are a must when it comes to organization of a home or office. We have every size, finish and style.  If it is not in stock, we can get it for you.  Our answer is "Yes we can" make you a custom bookcase, desk etc to fit your exact need.   Why?  Your dealing with an American Workers who care about your needs and business.
American Made Dining, Bedroom, Office and Entertainment!  Just a few minutes needed to pick out the finishes that compliment you home and style the way you want it to.

   If you liked the Amish video above, you'll  LOVE this more detailed one The American Made Sofa below can have Different Wood inlays other than Cherry.  It has a matching Love seat and Chair. Eight fabrics to choose from AND Leather too!
Hot selling Quater-Sawn White oak with Optional Ebony inlays.  Amish made Lifetime Warranty.

 English dove-tale Drawer boxes, full extension ball bearing Drawer glides, solid (wood of your choice) cabinet tops, sides and framework. Elegant yet durable, offered in 6 finishes and there are options as well. Made in the Northwest. 

Be sure and check out our store for hundreds of items we cannot show on the web sight. There are just to many options and pricing factors to consider when you are looking for your office needs. We have dozens of commercial accounts who buy their entire office furniture needs from our store.

Traditional, Modern, Mission, Shaker & More! We sell more bookcases because we got em! Every size and if you have an odd size, we will build it for you! Bookcase standard heights are 3′, 4′, 5′, 6′ & 7′ tall while standard is 24″, 32″, & 48″. We have largest supply of in stock bookcases in the Northwest! Since 1995.  Our Furniture Stores as located in Portland and Tigard Oregon.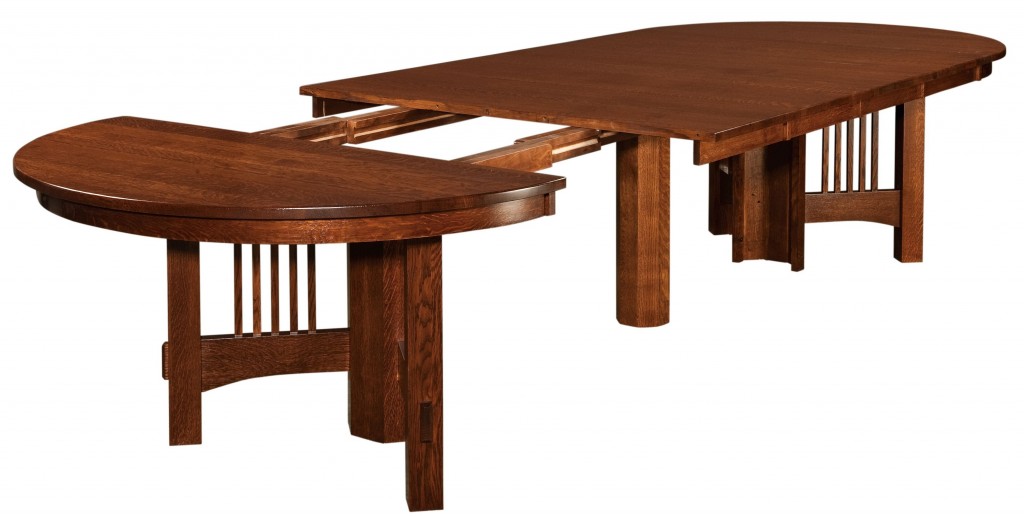 Our Dining furniture include every aspect of your dining experience and comfort. Our selection will astound you, there are factories that we can mix and match legs on chairs, change the height of the seat or the back. You again can choose color, style, wood including fabric, leather and matching hutches, servers, curios, and more. We have hard to find items like corner hutches and Crown China's.

This is a Sister Company that Offers Hand Made Soaps and Scents, over 100 scents and options.